3. Basic Vision Tests
Vision tests that can and should be used early in the functional assessment are those related to recognition of forms: visual acuity using optotype tests at high contrast, contrast sensitivity with Hiding Heidi and low contrast visual acuity tests, colour vision with quantitative tests, visual adaptation, visual field and motion perception. More information on these tests is available at Instructions. Often the results are better in day care and at schools than during the clinical examination. However, if the luminance level is lower than in the hospital or the instructions for the use of the test are not followed the result may show poorer function.
---
Slide 42.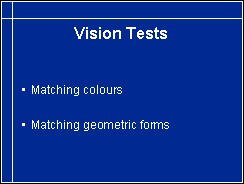 When testing the different visual functions we expect a certain response. In the measurement of visual acuity, matching is the earliest function to be used. Children usually learn to compare colours earlier than forms. The Lea Puzzle was designed for teaching matching early, first matching colours and a few weeks later simple geometric forms, square, ring, house and apple. Usually the infant/child places a puzzle piece on a similar picture. If the hand does not work the child may use his/her gaze to point, which two symbols are the same. (More about this play situation on Lea Puzzle)
---
Slide 43.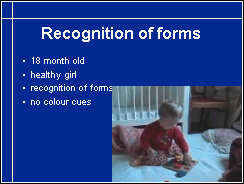 Video
In this slide we see a healthy 18 month old infant playing with a puzzle where the puzzle pieces have different colours but the cut-outs all have the same colour of unpainted wood. Playthings like this effectively train the infant to compare basic forms and to learn to detect differences.
---
Slide 44.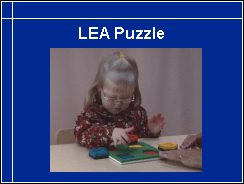 When the early development is delayed as in case of Down Syndrome, training is necessary for successful testing. Exposure to the test symbols during a few weeks makes testing this 3 years and 11 months old girl much like testing the 23 month old girl with anisometropia. By giving children time to become familiar with the test symbols we can start testing children with intellectual disabilities much earlier than what is customary today. Since these children have visual impairments more often than children with normal intellectual development, their vision should be tested early and the follow-up should be targeted to features that are known to occur in each particular condition, like accommodation insufficiency and high refractive errors in Down Syndrome.
---
Slide 45.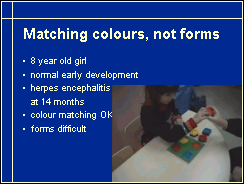 Video
When a child has brain damage, its effect in all areas of sensory functions should be investigated. This 8-year old girl matches the colourful puzzle pieces with their cut-outs without any difficulty but places the black-and-white forms quite randomly. With repeated intensive training of half an hour, this child learned to discriminate the black-and-white forms so her visual acuity could be measured with single symbols to be 0.16 (6/38, 20/125). However, after a while the test situation was equally difficult as during the first time - the child could handle visual form information in her working memory but could not store it into her long-term memory. Thus she had problems at each of the three levels of handling visual information: 1. discrimination of details in the in-coming information is one tenth of normal (=low visual acuity), 2. discrimination of forms is difficult even in large sizes, and 3. visual memory functions are limited to working memory. These limitations were severe only in this area of vision. An uneven profile in visual functions should always be investigated in detail so that learning materials use the strong areas, in weak areas compensatory techniques are used.
---
Slide 46.

Video
There are numerous commercially available colour-form games that can be used to assess simultaneous use of the concepts 'colour' and 'form'. This girl, who was born prematurely, has normal looking visual cortex in the MRI but isolated severe losses of cortical functions: she does not recognise anybody by their facial features and has had severe problems in developing spatial concepts. Her visual acuity is nearly normal, her colour perception is normal and she quickly learns to localise the correct cut-out when both colour and form need to be matched.
Although concrete games are nicer, also computer games can be used to assess form and colour perception.
---
Slide 47.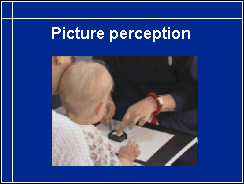 Picture perception is one of the difficult concepts to develop when a child is visually impaired. If both the object and its picture are blurred and their colours confused, it is difficult to understand the relationship between the object and its picture - that the picture represents the object. Drawing around objects while the child observes the adult person drawing and listens to explanation on how the picture appears on the paper, is an effective way to teach picture perception.